Keynote: Dr James R. Curran
Submitted on 2014-07-09 08:53
Following up last week's announcement that Katie Cunningham would be one of PyCon 2014's plenary speakers was always going to be hard. We love a challenge!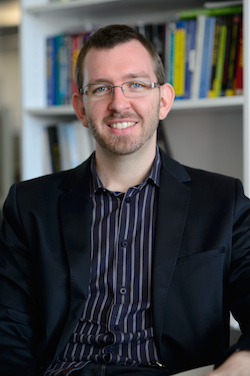 So it is with equally great excitement that we announce the second of our keynote speakers: Dr James R. Curran, Associate Professor and ARC Australian Research Fellow at the University of Sydney.
There's a lot of people in the Australian Python community who got their start in Python through James' activities: He has taught Python to thousands of school students and teachers since version 1.5.1 (1999), and for over 10 years he has been involved in a wide range of high school outreach activities, primarily through the National Computer Science School.
In his talk, "Python for every child in Australia", Dr Curran casts his eyes over an important opportunity to bring Python into classrooms all over Australia. The once in a generation "Australian Curriculum: Digital Technologies" curriculum presents an opportunity to teach computer science and programming to Australian school children from Year 3 to Year 10.
James argues that the very future of Australian computing is at stake, and that the Python community has an exciting part to play in shaping that future.
Aside from his Python outreach work, James is a computer scientist at the University of Sydney, researching computational linguistics with a focus on statistical approaches to syntactic and semantic natural language processing on web-scale datasets.
We are excited to hear Dr Curran's keynote address and see his vision for the future of Python in Australian schools. Will you be there?
Registrations for PyCon Australia 2014 are already open and tickets going at alarming rate (the good kind of alarming). Book your conference ticket today! http://2014.pycon-au.org/register/prices